Here at technobunnies, we make a difference to our client's lives by handling their little data. Do you want to know whether your surgical intervention is as effective, or more effective, than the current standard? The answer is available from surprisingly little data. Perhaps you need to measure KPIs or visualize sales? Do you need to design a protocol to compare two different strategies or build a macro to clean structured data every month?
Do you handle thousands of clients? Poor data control can quickly overwhelm the typical office, reliant on Excel or Access. Here at technobunnies, we took the humble bunny for our branding, and we merrily nibble away at the small data problems that challenge every business every day.
By applying simple processes, the software you have already invested in can often be used to create better outcomes.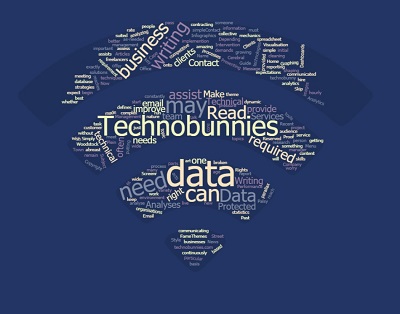 Big Data
But isn't it all about BIG data these days? There is certainly some very large data out there and with services offered by AWS, GCP, and Azure – even the smallest client has access to some heavy-weight processing power, allowing anyone to crunch some seriously large datasets. The reality is, however, that many businesses need simple, common-sense tools or strategies to manage their little and medium-sized datasets. Many lack the skills internally to do so.
What makes data big?
What makes data big? Put simply- our inability to deal with it! When the tools that we normally apply do not apply then we call our dataset Big and attempt to create new techniques to query it.
The 3 vs apply to big data:
When your data is coming at you fast, or in such a volume that it is a challenge to manage you have BIG data. When you have a wide variety of data: text, images, video files or perhaps you have some audio and questionnaire data too, then you may apply the BIG label too.
The majority of businesses need assistance with their data handling on the small to medium scale. Yes, AI is impressive and will most certainly impact our future business processes, but our womb-grown brains are enough to turn qualitative data into quantitative. The technobunnies freelancers are perfectly capable of running your A/B test statistics without the assistance of DeepMind.
The data-driven approach
Most clients that pass through our hands follow a typical pattern: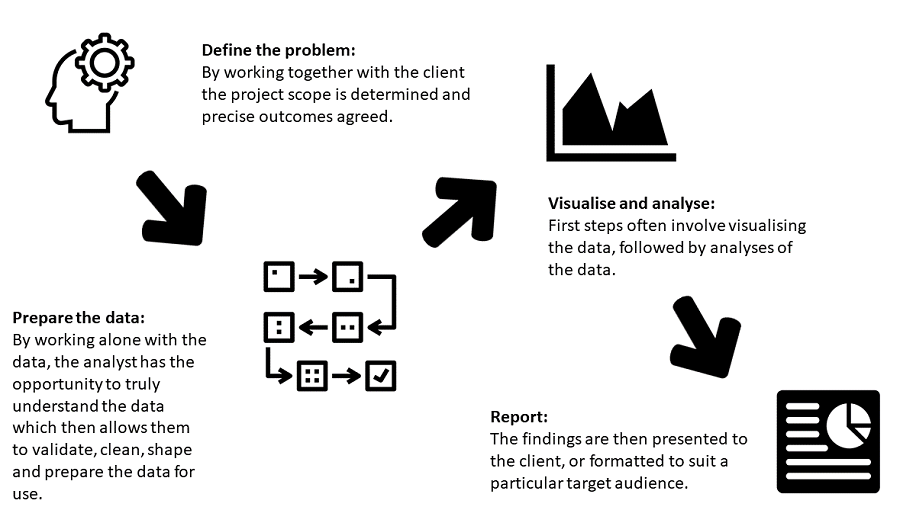 Whilst working with the client to define the problem is vital to technobunnies' ability to support our clients, the time spent working alone is a surprisingly large component to success. The issue is reality consensus. The data collected, even the issue perceived by the client may differ to the real problem.
Given time to grapple with the issue alone and to come to terms with the challenges inherent within each particular data set, it is not uncommon for the analyst to emerge with new insights and to return to the client to re-define the project description.
Communication with the client is key. Yet, reflection is vital. It is incredible the extent to which communication hinders reflection. Our clients value us because of the great emphasis we place on understanding the data. It is not uncommon to spend more time working with the raw data than on the analyses or visualisation itself. 
The model works
It is expensive to hire talent this good on a full-time basis. By onboarding contractors as and when you need them- you have access to affordable analyses, reporting, editing, and technical writing. We can help you meet those deadlines, without breaking the project budget. We can set you up with analytics and provide reports then walk away, without becoming a financial burden.
Check out some of our client list, to see the range of assistance provided. Don't worry if you are not Cape Town based, neither are all the technobunnies freelancers. Joining and building global virtual teams is just part of what we do.